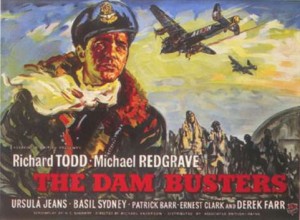 Of all the war films produced in the post-war period,                            "The Dam Busters" is probably  the most iconic and                              best known today.
On Saturday 31st October an excited audience  gathered                       at The Ark Community Theatre to celebrate with Elstree             Screen Heritage the 60th anniversary of this Elstree classic.
Made in Borehamwood at ABPC (Associated British Picture Corporation, now  Elstree Studios), the film                                was finally released in May 1955.  To help recreate                                 the mood  of the premiere screening the theatre was               decorated with pennants and a red carpet.
Even better, a full Lancaster crew of seven welcomed Mayors Worster and Butler  of the Councils of Hertsmere and Elstree & Borehamwood and the rest of the audience.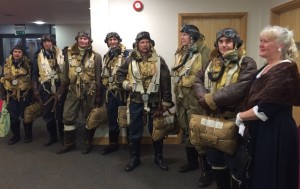 For more photos of the evening please visit our Events Gallery for "The Dam Busters"
Our most special guests were Brian Osborne and Kelvin Pike, two members of the  film crew of "The Dam Busters". Its Director, Michael Anderson, now in his 90s  and living in Canada, sent a message read out by Paul Welsh, Chair of Elstree  Screen Heritage: "I will be thinking of you all, and wishing I were there  to experience this great moment and he many memories it recalls"
Paul also read an anecdote from Michael describing how the first Lancaster flypast  almost took the top off an aircraft hangar,                 a moment which the audience recognised  minutes later during       the screening.
As Kelvin Pike said, it was "a super evening, fantastic, with real period atmosphere".
Here's to many more celebrations of the films of the studios of Elstree & Borehamwood.
~~~~~~~~~~~~~~~~~~~~~~~~~~~~~~~~~~~~~~~~~~~~~~~~~~~
A unique souvenir is still available, the Lincolnshire Lancaster
Association's 100-page glossy magazine, for only £4.00 plus P+P